I'm so glad I picked up this beautiful tall dresser with an engraved molding outlining the drawers. It was sitting in goodwill (another find from this store) for weeks. Every time I visited the store, I would always think to myself, this would be a great piece to work on! ( don't want to sound crazy but I visit goodwill 3+ a week. One of the perks of working next to goodwill!). Without a second thought I bought it. And luckily it was half off at the time!
Here's the before. It was hideous! The wood furnished in this piece was unusual. It has deep groves.
After going through lowest to highest grit of sandpaper, it smoothed out. I chalk painted this piece a light grey and stained the top kona with multiple coats. Then the top was finished with a water based poly, also with multiple coats.
I loved the outcome of this piece, I wanted to keep it for myself. But then I'm trying to establish a business, I can't keep saving the stuff I buy to resell. ):
kyra
Linked on: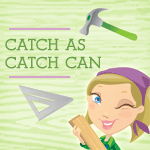 www.savvysouthernstyle.net/?m=1